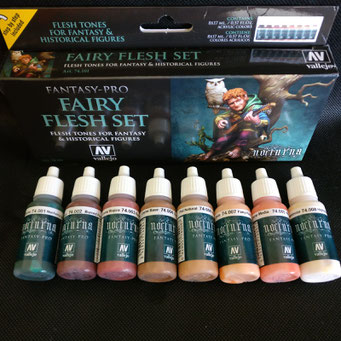 Click here for Dutch/Nederlands
#notsponsored
As a miniature painter I often find myself painting miniature faces. This useally is the focal point of the miniature, so I want to paint them as good as possible. For this, good paint is a must.
In this review I'm going to tell you about my experience with the Vallejo Fantasy-Pro Fairy Flesh set.
This set contains 8 dropper bottles in the following colors: Nocturna Shadow, Burned Flesh, Reddish Flesh, Base Flesh, Medium Flesh, Natural Flesh, Fairy Flesh and Highlight Skin. The box also contains a manual that explains things as highlights/lowlights and gives a few simple step by step tutorials for a couple different skin tones. 
The Fairy Flesh Set is mainly focused on the more reddish/warm skin tones. When you are looking for more blueish /cooler tones the Malefic Flesh Set from Vallejo might be the thing you are looking for.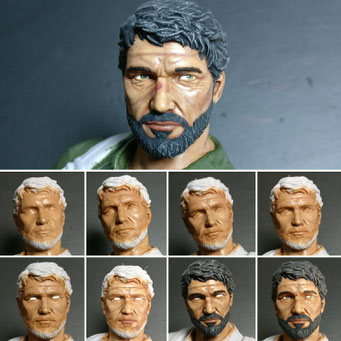 A new favorite!

In my painting days I've tried and own lots of different paints for skin tones.
But I must say, I have found a new favorite!
I had the opportunity to test the paint on two bigger miniatures. Maybe you recognise them; Joel and Ellie from The Last of US.
For Joel I used the slightly darker tones from the set. And some of the reddish ones for the scar on his nose.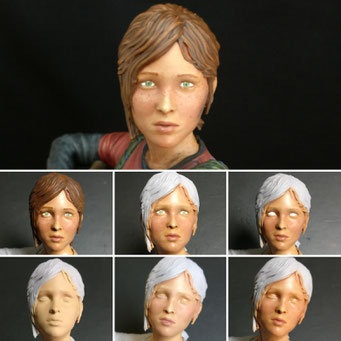 The paint is really pleasant to use. It has a nice consistency that is very smooth.
Not at all chalky/grainy,  that you get with certain other brands.
It is easy to blend and gives a good coverage. It dries nice and even and has a matte finish.  It also combines well with washes and other kinds of paint. 
For Ellie I've used the lighter colors, some reddish blush on her cheeks and lips, and a bit of darker paint for her freckles.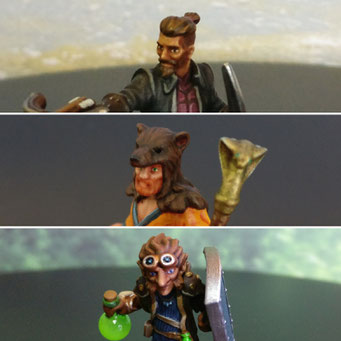 I've also tried the paint on a couple small faces of tabletop miniatures.
It is very easy to work with.
By blending the paints you can get a wide range of skintones out of this set.
The color: Nocturna Shadow from the set is a little greener than you might expect form seeing it on the box. But don't be mistaken, a good skintone has a lot more green in it than you might expect. I think this color is very useful for blending with the other colors to get a darker tone and to add shadows.
+ easy to use: good coverage and easy to blend.
+ Nice smooth texture, not grainy or chalky at all.
+ Dries even and has a matte finish.
+The colors from the set match and blend well with each other, giving you a wide range of possibilities.
- The color: Nocturna Shadow is a lot greener than you might expect from seeing on the package.
- too bad that there isn't a set solely for dark skin tones.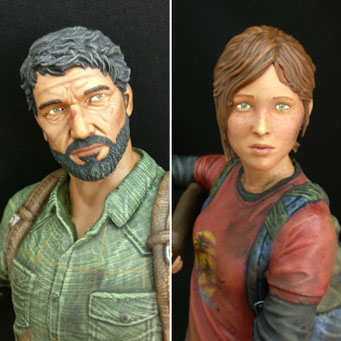 The verdict

I'm a complete fan of the Vallejo Fantasy-Pro Fairy Flesh Set.
The quality is super and it is very easy to use.
In the future I would definitely like to add the other color sets form the Frantasy-Pro line to my collection :)
- Martine, MarTiny Creations